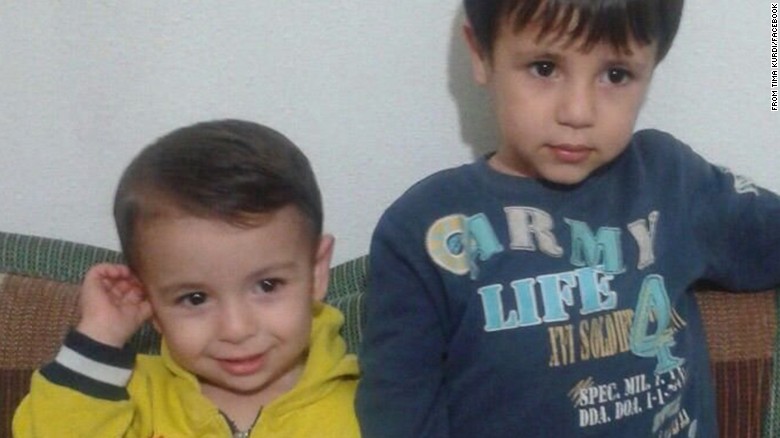 Much of the world's attention has finally been captured by the Syrian refugees and their desperate search for refuge from the civil war that has been raging in that country for the past four years. This week, as the story and pictures broke, of two, toddler boys and their mother who drowned amidst their attempts to get from Turkey to Greece in a desperate attempt to seek refuge, much of the world has awoken to the harsh reality of the Syrian plight.
As I have been reflecting upon the displacement of so many Syrians from their homes and their country, I realize that I have so scant an appreciation for the suffering and struggle as I live in the relative peace and comfort of America. But the more I reflect on their story and as I watch BBC newscasts which feature the cries offered up by fathers and mothers and children who are seeking just some means of living, I am confronted with the truth that their story is all of our stories.
We are a displaced people – all of humanity. Created for community. Created for another country. We have been displaced refugees since nearly the very beginning of our human story. It began in a Garden. A paradise. We called it home. God called it Eden. And we once walked with Him in the cool of the day.
Fast forward thousands of years and we are still a people seeking a country – if we are truly aware, if we are people living in and by faith, the truth is that we are seeking a heavenly one. Hebrews 11 illuminates this condition – that we are refugees seeking refuge, we are foreigners and pilgrims, seeking the heavenly country. I by no means offer these reflections as some solution to the Syrian plight, but as I meditate on Hebrews 11 there appears to be a pattern of seeking refuge and what it might mean for all of us as we consider the plight of our Syrian brothers and sisters.
Seeking Refuge: Confessing
Hebrews 11:13, reads,
All these people were still living by faith when they died. They did not receive the things promised; they only saw them and welcomed them from a distance, admitting that they were foreigners and strangers on earth.
There is an important value for us to confess, to admit that this place is not our home. For the displaced Syrian people, they realize that they cannot go "home" or return to the country of their birth. They have their own hopes about where they can go to start rebuilding their lives. The global immigration laws are not necessarily helpful in the cases of mass exodus as countries close borders and limit access – similar to what happened during the Ebola outbreak of 2014. At some level, there is the shame and pain of living in the camps as a refugee – where one can feel less than human and certainly that they have no rights as they don't have citizenship. This is why so many Syrians cried out "No, camps!" in the Hungarian train standoff this week. All the while, officials around the world are begging for refugees to follow and be patient with the laws. There seems to be a connection between admitting that one is a "foreigner or stranger" though it is understandable why so few would place their hopes in any government that is less than favorable to one's plight.
As people, I believe that we, too, must confess that we are "foreigners and strangers on earth." When we realize that there is no country, no citizenship or passport, no amount of money or economic situation that we might be afforded that can compare with the benefit of heavenly citizenship we can finally let go of the insufficient and lesser citizenship of this earth. Consider, the luxuries that the Western world "enjoys" pales in comparison to the blessings of heaven – and when you consider that it matters not where and when one is born – then one can see the citizenship of heaven as open to all. But we first must acknowledge that we do not belong here. While the Syrians may look at Germany as a refuge, as heaven on earth – the truth is that Germany (while maybe a better refuge than Hungary) is not the ultimate refuge.
Seeking Refuge: Looking
Hebrews 11:14 describes another attribute for the refugee seeking refuge,
People who say such things show that they are looking for a country of their own.
Part of the Syrian story, featured the hope for Syrians as they boarded a train which eventually stopped in Bicske. Reporters on the train interviewed refugees who claimed that they didn't know where the train was even headed, but they had heard and they hoped that it was headed for Austria. The refugees were searching, looking desperately for refuge, for a way to get to Austria with hopes of going on to Germany. People threw themselves on the rails, desperate. Refugees broke through police lines to join a mass march on their way to make the 110-mile journey to the border of Austria. One could hear the cries – not just looking for refuge, they were pursuing that "country of their own."
This, to me is suggestive of how intentional we need to be within our own human condition. As I see the depravity and separation from God, there is a seeking that we undertake, a looking for refuge – sometimes we believe that we find that refuge in things that are actually only temporal. Sex, drugs, money, food – just to name a few of the things that we often replace what is the true country. These are all part of our seeking, our looking for a country different than the one we find ourselves in.
But looking is not enough. In fact, looking can often mean that we are looking in the wrong place(s) for that true refuge. The psalmist David speaks to seeking for refuge in Psalm 62.
Yes, my soul, find rest in God;
    my hope comes from him.
Truly he is my rock and my salvation;
    he is my fortress, I will not be shaken.
My salvation and my honor depend on God[c];
    he is my mighty rock, my refuge.
Trust in him at all times, you people;
    pour out your hearts to him,
    for God is our refuge.
David was accustom to seeking refuge – his early years, even after being anointed King of Israel were constantly on the run from Saul and hiding out form his murderous attempts. Imagine being declared president but then living life on the run until you could finally take office – this was David's best years – life on the run. He knew what it was to seek and to find true refuge.
Seeking Refuge: Longing
Back to Hebrews, another key insight into seeking refuge comes from Hebrews 11:15-16,
If they had been thinking of the country they had left, they would have had opportunity to return. Instead, they were longing for a better country—a heavenly one. Therefore God is not ashamed to be called their God, for he has prepared a city for them.
As I watched the footage and heard some of the Syrian stories, you could see the look on some of the faces – they weren't satisfied with what Hungary might offer as refugees, they were truly longing for a better country, a better refuge – Germany. The determination of the refugees was admirable, though I confess I cannot see the whole scope of it all. Oh, that we might have the same sense of longing.
In the U.S. and most of the West, we are afforded the luxury of so much choice that we rarely know what it is to truly long for something. Most of us have not gone hungry. Most of us have not been truly desperate for anything. Most of us do not know what it is to really long – especially in terms of refuge. The closest perhaps I can even come to associating with this was after a long day of hiking and being caught in a rainstorm for a couple of hours. Drenched, cold, and hungry – I longed for the shelter of the tent and the warmth of food cooked over a fire.
Do we truly long for the heavenly country? Or, are we so consumed with making heaven on earth that we do not know how to long, or what to long for?
Seeking Refuge: Receiving
Bless you if you are still reading – but as we wind down Hebrews 11 – we discover that no one has truly received what was promised. Hebrews 11:39-40,
These were all commended for their faith, yet none of them received what had been promised, since God had planned something better for us so that only together with us would they be made perfect.
In this sense we are all still confessing, all still seeking, all still longing – for that which has been promised, a heavenly country. We wait to hear the final words,
"Look! God's dwelling place is now among the people, and he will dwell with them. They will be his people, and God himself will be with them and be their God. 'He will wipe every tear from their eyes. There will be no more death' or mourning or crying or pain, for the old order of things has passed away."
There will come a day when we are finally home. There will come a time when we finally trade the old world, the old order of things for the new. It begins with our confession and acknowledgement that we are refugees seeking refuge. It means that we must search and long for that which is not of this world. And, finally, we must receive that which is promised to us. The words of Jesus must be what part of how we receive that promise,
I have come that they may have life, and have it to the full.
And as we understand that as the Good Shepherd he will lead us to a place where green pastures grow and quiet waters flow. He will lead us as refugees seeking refuge. Let us all echo the mediations of David which say,
Trust in him at all times, you people;
    pour out your hearts to him,
    for God is our refuge.
Blessings,
Rev. Brad Kenney